It's impossible to talk about scanning photos, converting videos, and organizing digital photos without discussing hard drives. If you're going to keep your Family Photo Archive safe now and for the future, then you need quality storage and a good backup plan.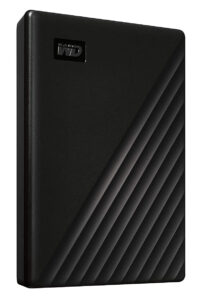 There are two main types of hard drives these days, conventional spinning hard drives and the super fast SSD (solid-state drive) with no moving parts. The trade-offs are simple:
Spinning hard drives are:
larger storage capacity
less expensive
slower
physically larger
more susceptible to failure, especially if dropped
In comparison, SSD drives are:
much faster
smaller
more expensive
less susceptible to physical damage
For typical use and larger storage, I usually recommend spinning external hard drives. My favorite hard drives are the My Passport models from Western Digital. I own dozens of these drives and recommend them to all my clients. The specific models I recommend include:
I prefer these drives because I like the case design and have had very few reliability issues. Out of dozens of drives I've purchased, I think I've had 2-3 fail on me. Because I have a comprehensive backup plan and the Western Digital 3-year year warranty, I've always had them replaced quickly with a nominal shipping fee.
A few tips for buying hard drives:
Hard drives work for Mac or Windows computers. Some companies, including Western Digital, will market drives for specific platforms, but hard drives work on both platforms.
Any time you purchase a hard drive, I recommend you purchase three of the same drive: your primary working drive, a backup, and an off-site backup. It might seem like overkill, but it's the simplest and most affordable disaster recovery plan for your important digital memories.
Post your throughts and questions in the comments below.