Digital Gathering Toolkit
Whether I'm with a client or working in my office, I love having every tool I need at my fingertips to conduct a thorough digital gathering session as efficiently as possible. Order your kit today I'll email you a code for one free digital poster of your choice from my Etsy shop.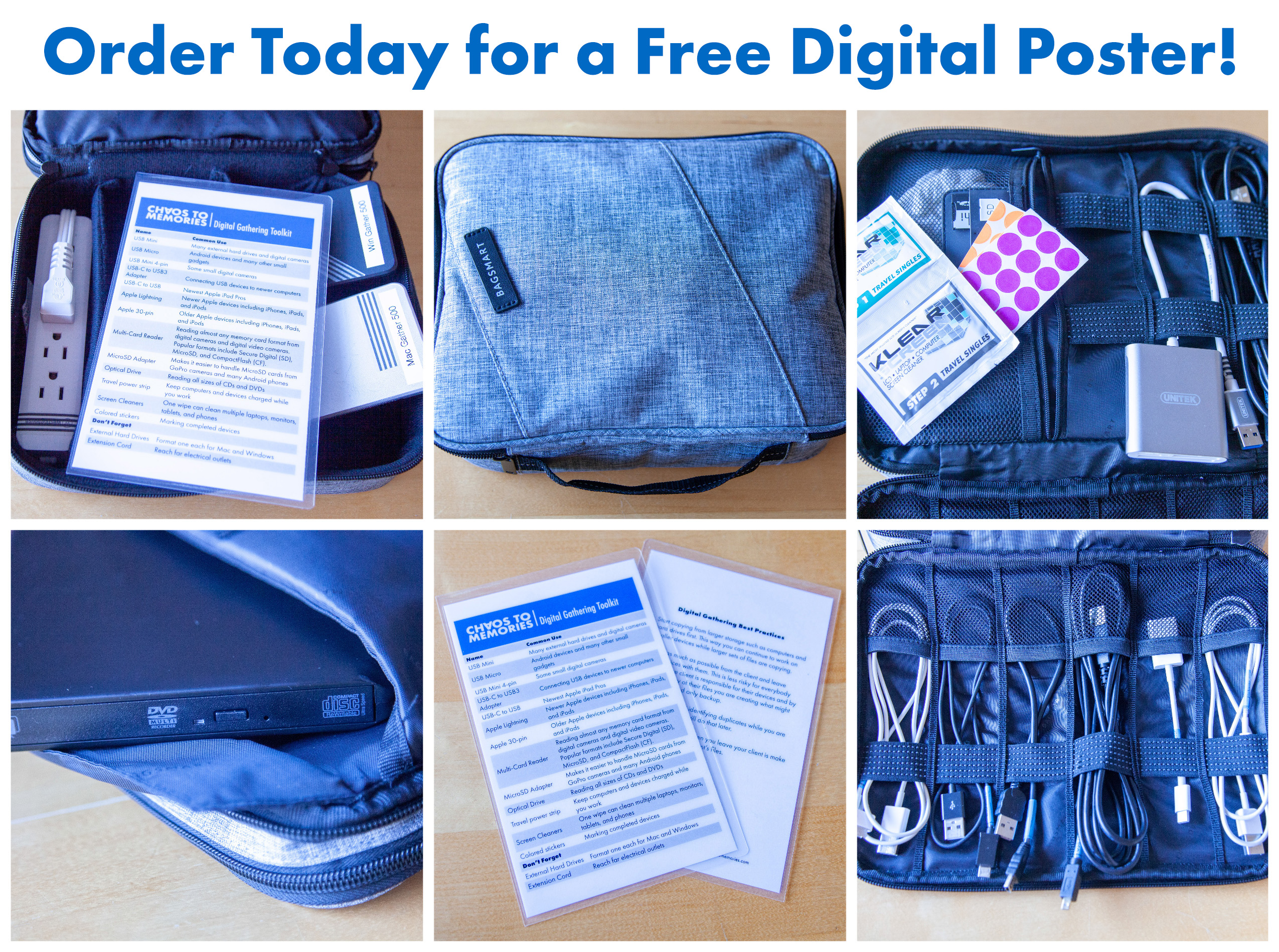 Each kit comes in a nice gadget bag about 11" x 9" x 4" and includes these cables, adapters, accessories, and equipment along with a laminated cheat sheet about all the tools and best practices to remember as you tackle each project. Each cable is custom-labeled for easy identification and use.
Name
Common Use
USB Mini
Many external hard drives and digital cameras
USB Micro
Android devices and many other small gadgets
USB Mini 4-pin
Some small digital cameras
USB-C to USB3 Adapter
Connecting USB devices to newer computers
USB-C to USB
Newest Apple iPad Pros
Apple Lightning
Newer Apple devices including iPhones, iPads, and iPods
Apple 30-pin
Older Apple devices including iPhones, iPads, and iPods
Multi-Card Reader
Reading almost any memory card format from digital cameras and digital video cameras. Popular formats include Secure Digital (SD), MicroSD, and CompactFlash (CF).
MicroSD Adapter
Makes it easier to handle MicroSD cards from GoPro cameras and many Android phones
Optical Drive
Reading all sizes of CDs and DVDs
Travel power strip
Keep computers and devices charged while you work
Screen Cleaners
One wipe can clean multiple laptops, monitors, tablets, and phones
Colored stickers
Marking completed devices
You supply...
External Hard Drives
Format one each for Mac and Windows
Extension Cord
Reach far electrical outlets