We love that our work brings peace of mind to our clients and that they love what we do for them. Here's what some of them said: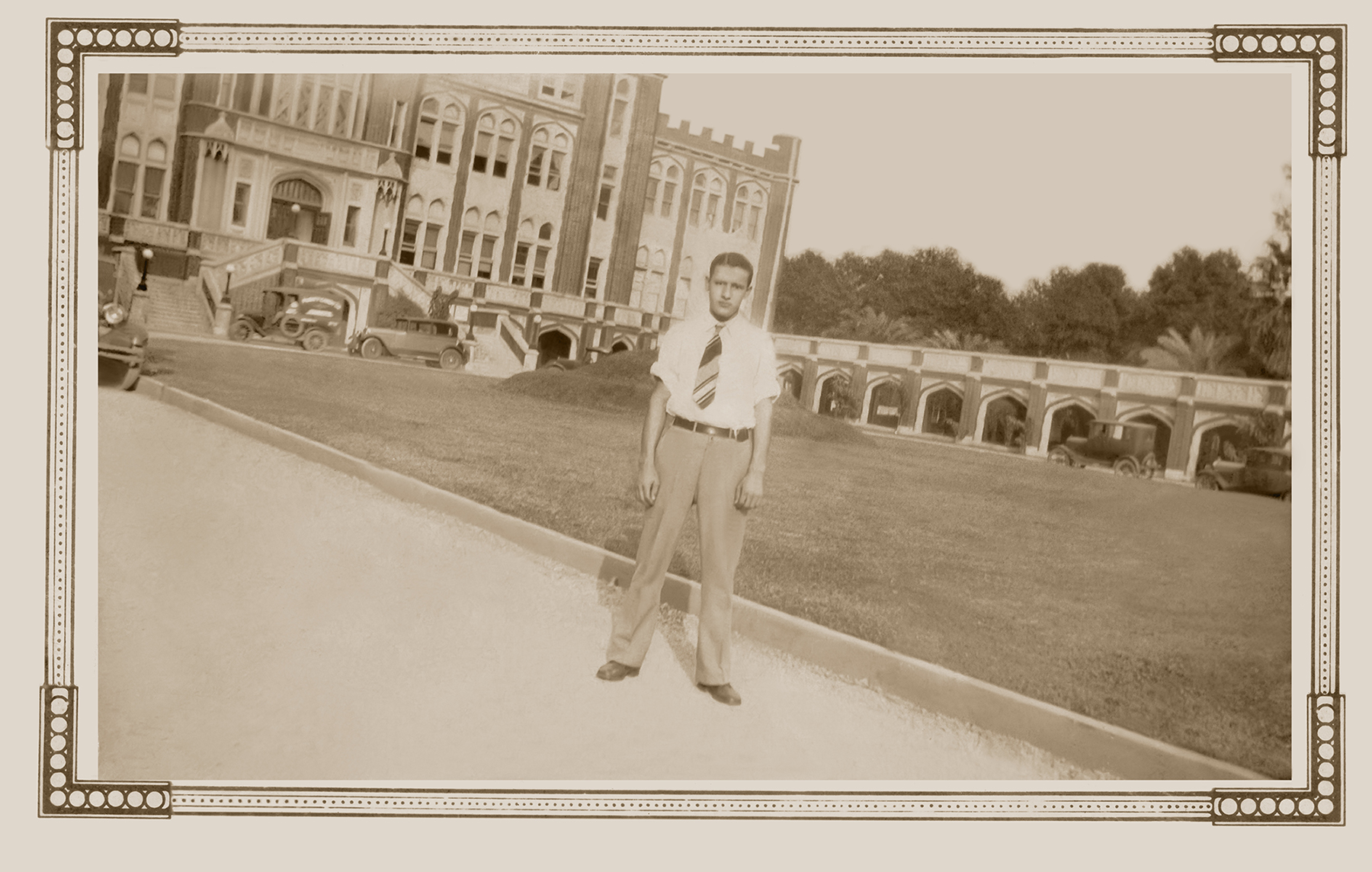 "Quality work"
"Thank you, Adam, for the quality of your work, your personality which makes you easy to work/communicate with, and for the joy your work brings others. I'm blessed to have found you!" – Sabrina C, Pittsburgh
"Absolutely outstanding"
A US Marine Corps veteran recently stopped in our studio with a unique historical artifact. He owns a 38″ x 8″ panoramic print of military exercises at Camp Pendleton from 1918. The print was tightly curled and cracked, and additional handling would result in further damage. We used a custom humidification chamber to relax the print and then pressed it under weight for a few days to further uncurl the print without damaging the photograph. Then we scanned the oversized print with 700+ megapixels of digital captures before stitching them together into a massive 1.1 gigabyte file. The last step was extensive retouching of the complete panoramic image to restore the original quality and detail.
"The scan and retouching look absolutely outstanding, thank you so much." –  Dain R, Wheaton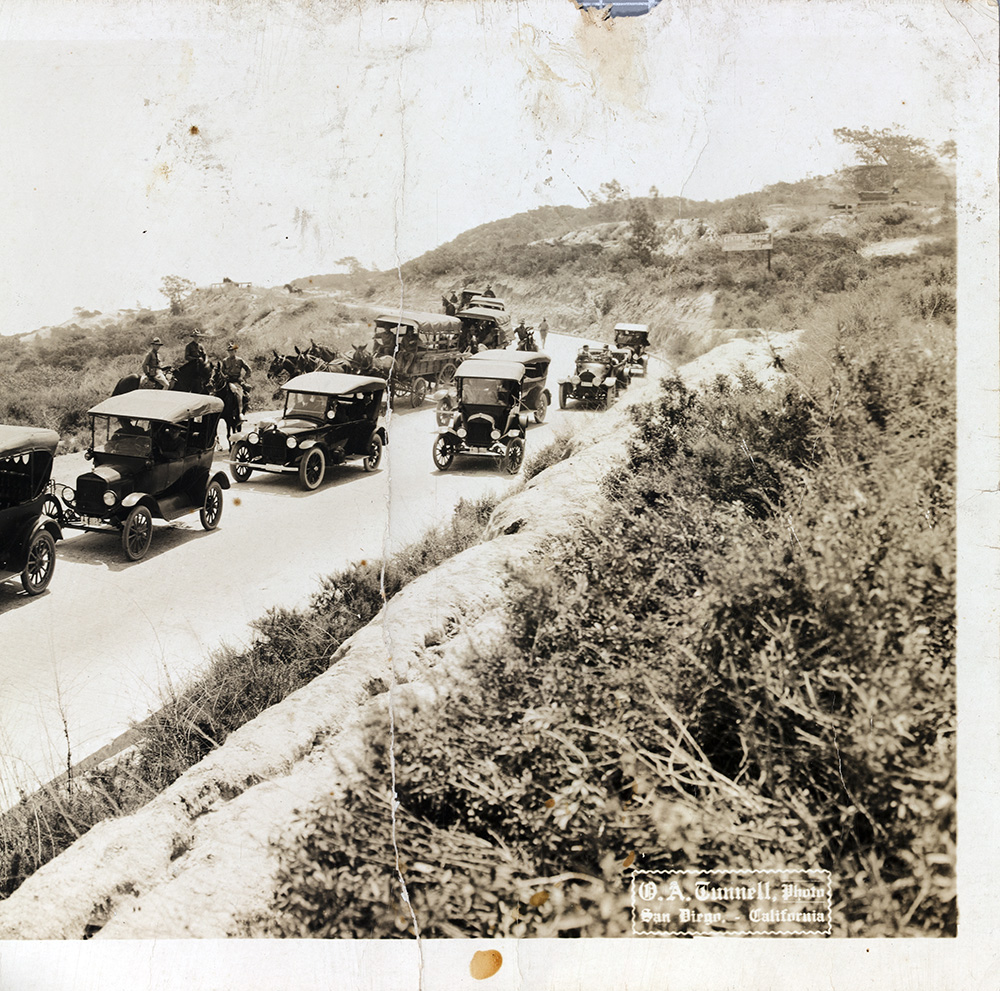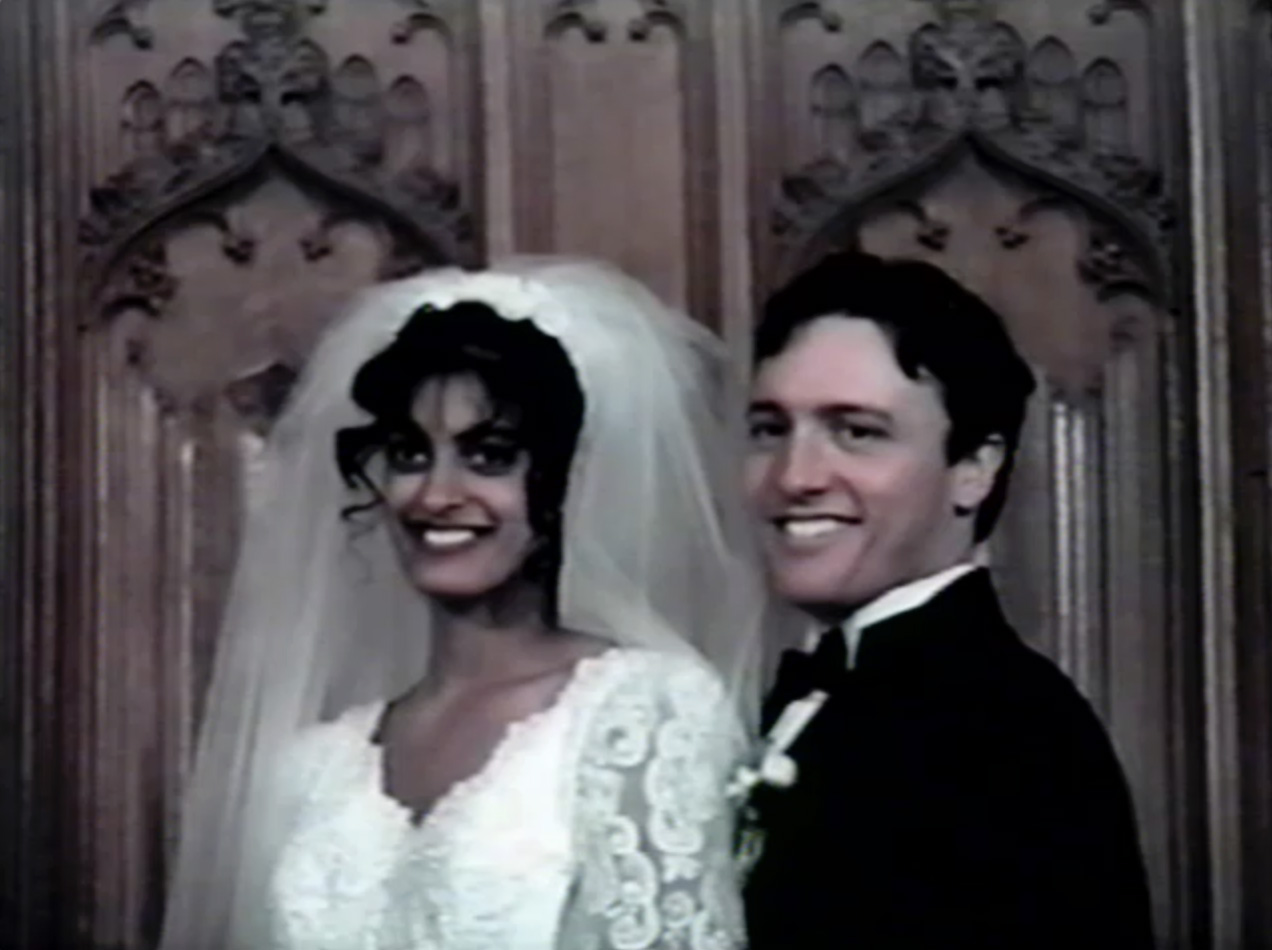 "Our hearts are so full"
"Adam, we were finally able to watch our wedding videos last night after twenty years! The kids watched with us and loved it as well. We were laughing one minute, crying the next. That was such an amazing experience, to relive so many precious moments, even many we had forgotten!! And to see some of our grandparents and relatives who are no longer with us! So precious. I can't begin to know how to thank you, Adam. Our hearts are so full!" – Deena G, Wheaton
"We're happy with all of it!"
"I looked through all the footage—how much fun! To see my kids, ages 34 and 35, as 2 1/2 and 4 year olds—what a riot! We're happy with all of it!" – Mary Lou S, Connecticut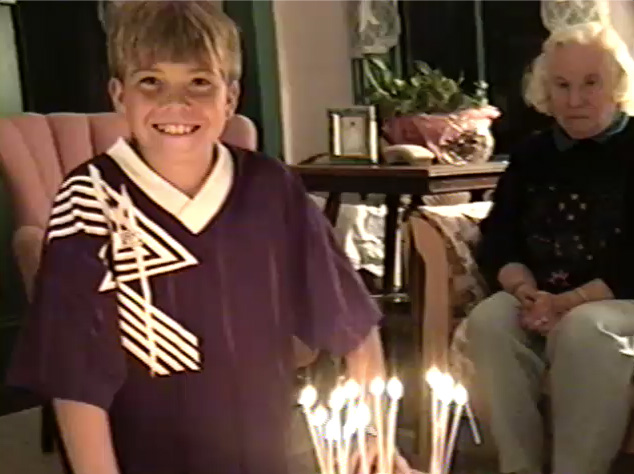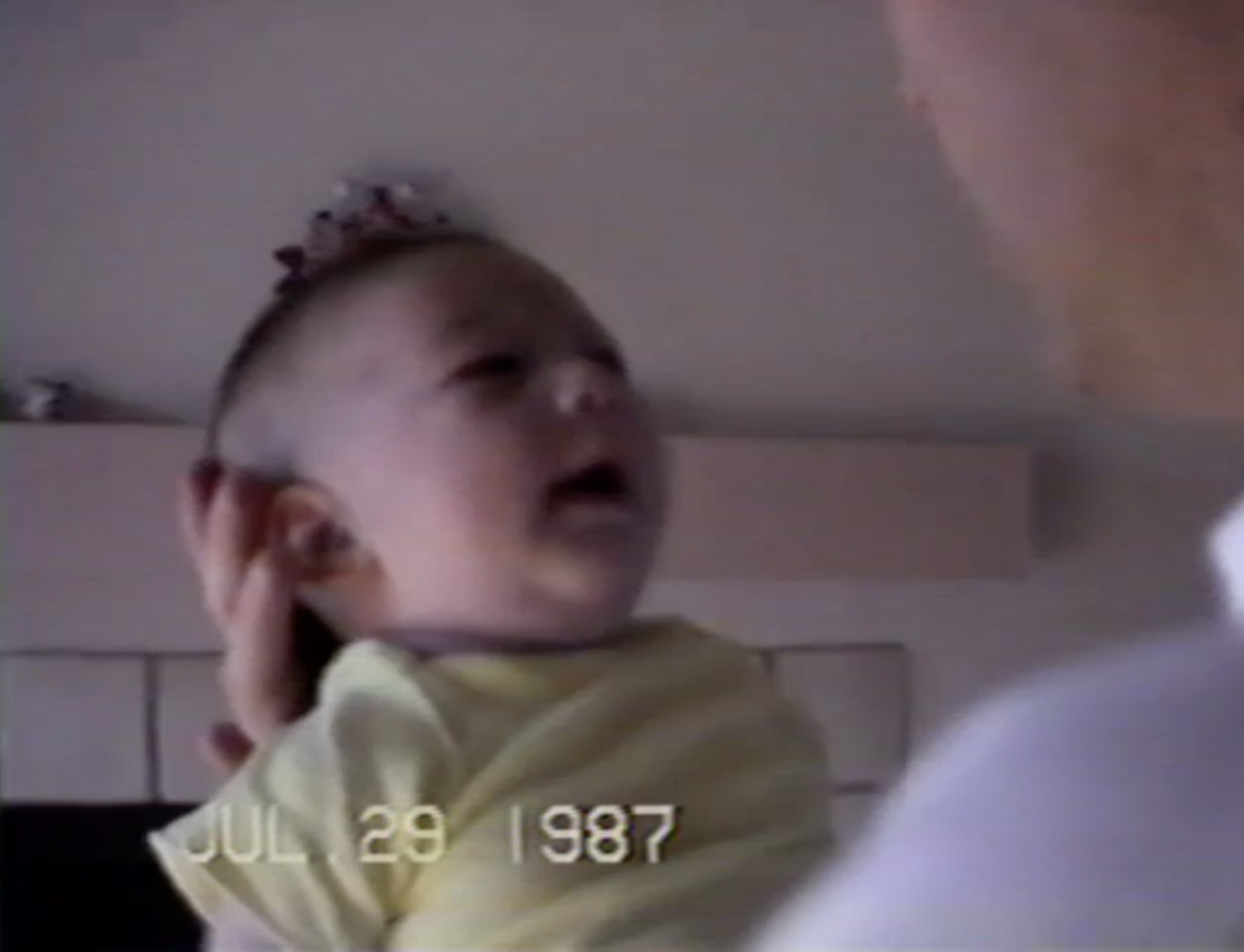 "Money well spent"
"We received the hard drive and have been enjoying the videos over the weekend. This was money well spent because, as you've said, we can easily view and share them." – Peggy M, Tucson
"A total pro"
"As a photographer, with thousands of images taken yearly through my own work, I thought I could help my mom out with getting our families old slides converted to digital and organized a little, making them easier to find and view when those occasions came around where we all wanted to sit and laugh at all the crazy old outfits and hairdos… But I was wrong. Doing what had to be done and having the time to do it correctly would have taken me way too long. Seeing how I would have to first research the best method for digitizing the slides and then build that whole system myself. It would have been crazy. 
In came Adam from Chaos to Memories. The job I had for him was relatively small, which I saw as daunting. He's a total pro and works fast! He had everything captured digitally, tagged, organized and the old slides boxed in less than 5 working days. I was impressed. Adam loves doing it too! He loves the history of your family and the stories that the photos tell. He also totally realizes the importance of what he's doing for people and it shows in the way he approaches each job, with genuine interest and respect for your memories. 
I still photograph on film once and awhile. Adam is now my goto for getting that film into the digital world. I can't thank him enough! Thanks Adam!" – Nick P, Berwyn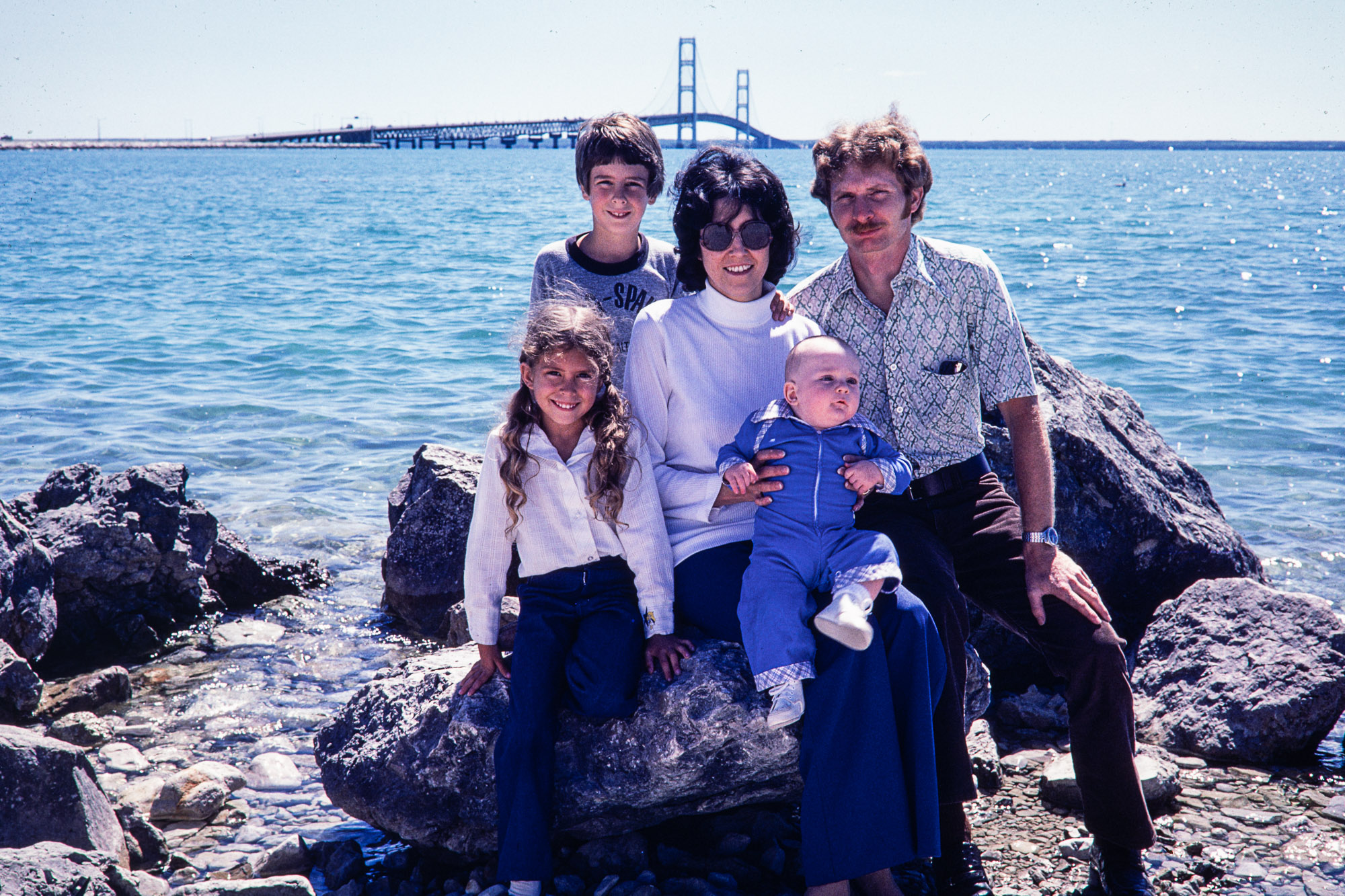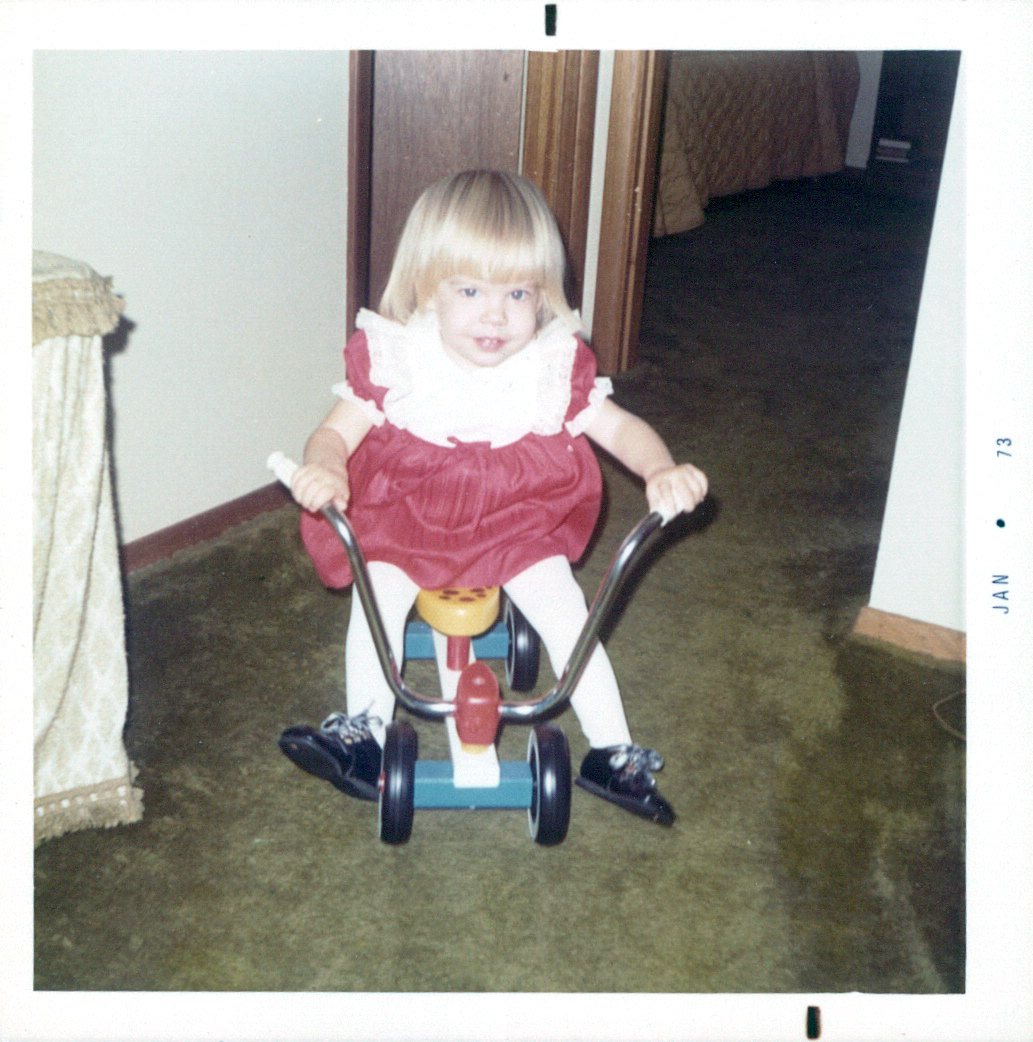 "His tutoring has been invaluable"
"Before I came to Adam's Chaos to Memories workshop, I was burdened by the unwieldiness of my photo library. My digital photos were organized chronologically but it took a long time to find ones I wanted for—example–a graduation poster of my son. I also was worried about losing them all if something happened to my computer.  While working with Adam, I learned step by step how to clean out, edit, organize, label, and backup my photo library. The 1:1 time I've spent with his tutoring has been invaluable to move me forward in this project. He tackles the challenges and multitude of my questions with patience and knowledge, and I am confident of the process and the outcome. His enthusiasm is contagious!" – Cheryce B, Wheaton
"Immediately beneficial"
"As a photography lover and a mother of 4 young boys, I had amassed a huge amount of digital photos that had zero organization and only random backups scattered across devices and different photo domains. I felt a growing uneasiness with this, as I highly value these images and memories and wanted to have secure, easy access to them. A quick Google search of photo organization techniques and storage options left my head spinning, but thankfully I found Chaos to Memories. Working with Adam was immediately beneficial; in a short time he was able to synthesize thousands of my photos into a cohesive, clear archive. He confidently walked me through his organizational process, taking time to teach me Lightroom techniques and ensuring I was able to follow his system on my own. Adam follows a clear organizational schema that is intuitive, user-friendly, and impressively thorough; from keyword tags to face recognition to GPS-tagging, his process not only documents intricate details of images but also makes them easy to find in seconds. Case in point: a fews weeks after meeting with Adam I needed to print a Father's Day picture quickly; after typing in two keywords and a name into Lightroom's search function, I immediately found the exact picture I was remembering in my mind!! No more scrolling through folders and meaningless filenames hunting for the perfect picture 🙂 I'm forever grateful for Adam's work…he has saved me countless hours archiving my older photos, and has taught me the organizational skills to continue to build my archive in the coming years." – Sarah T, Wheaton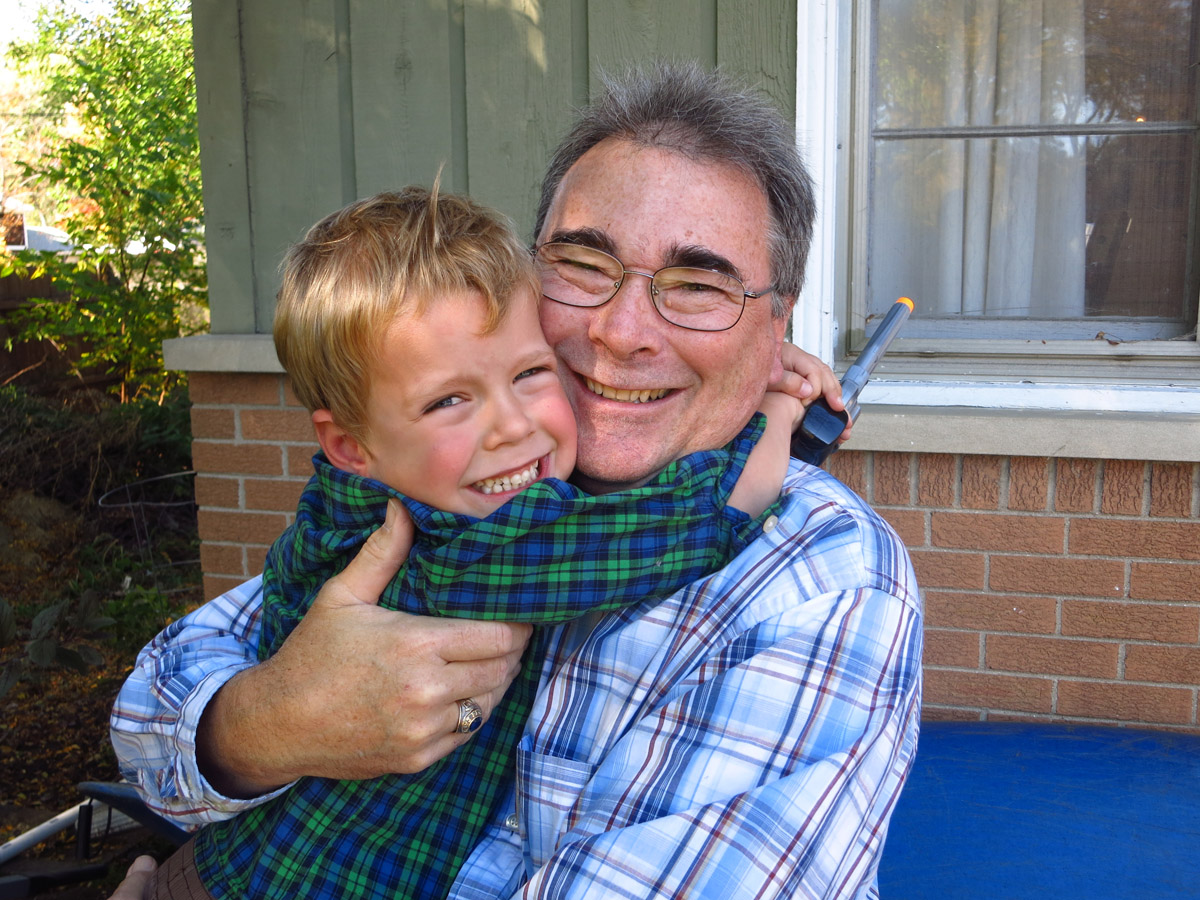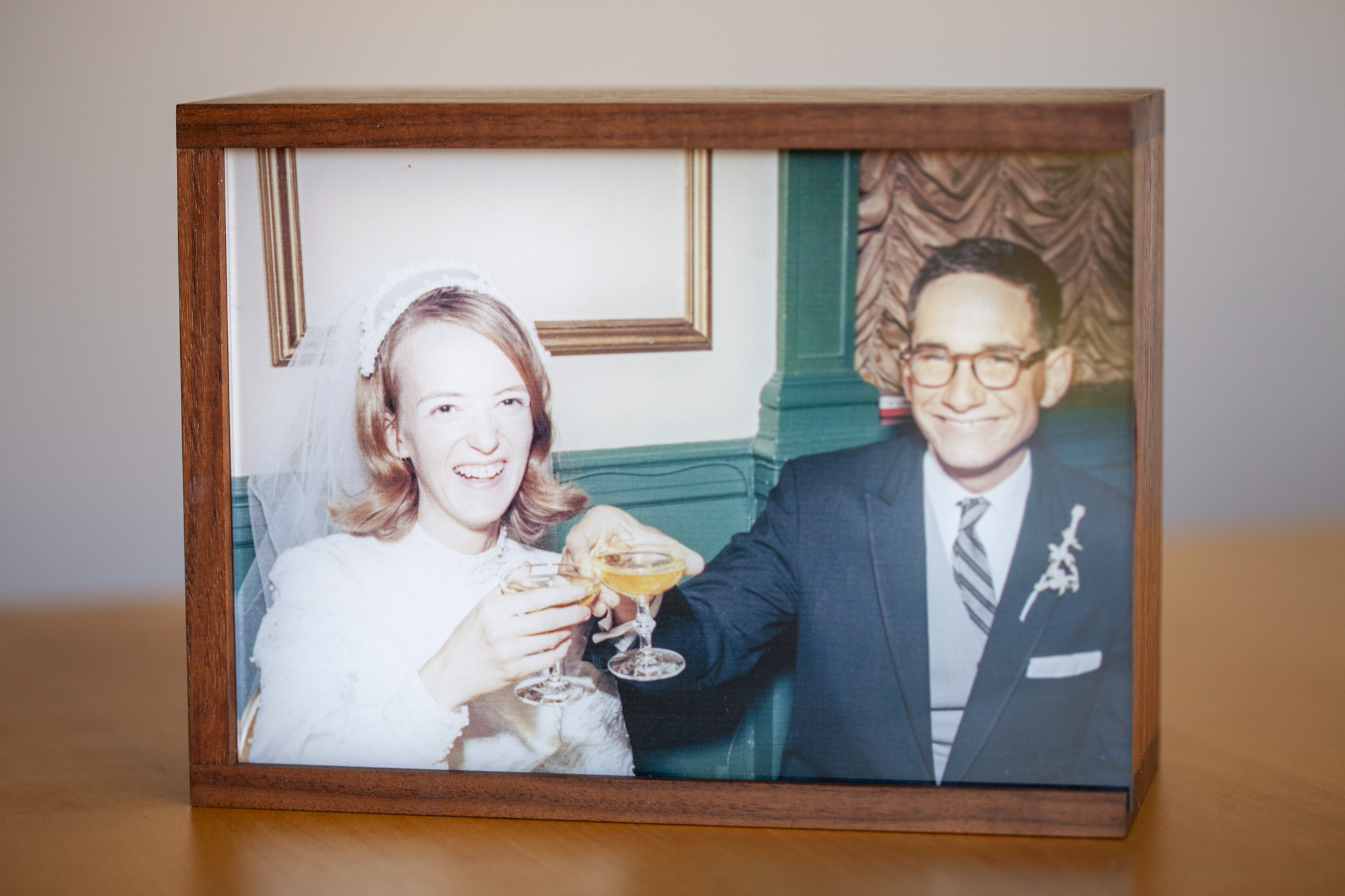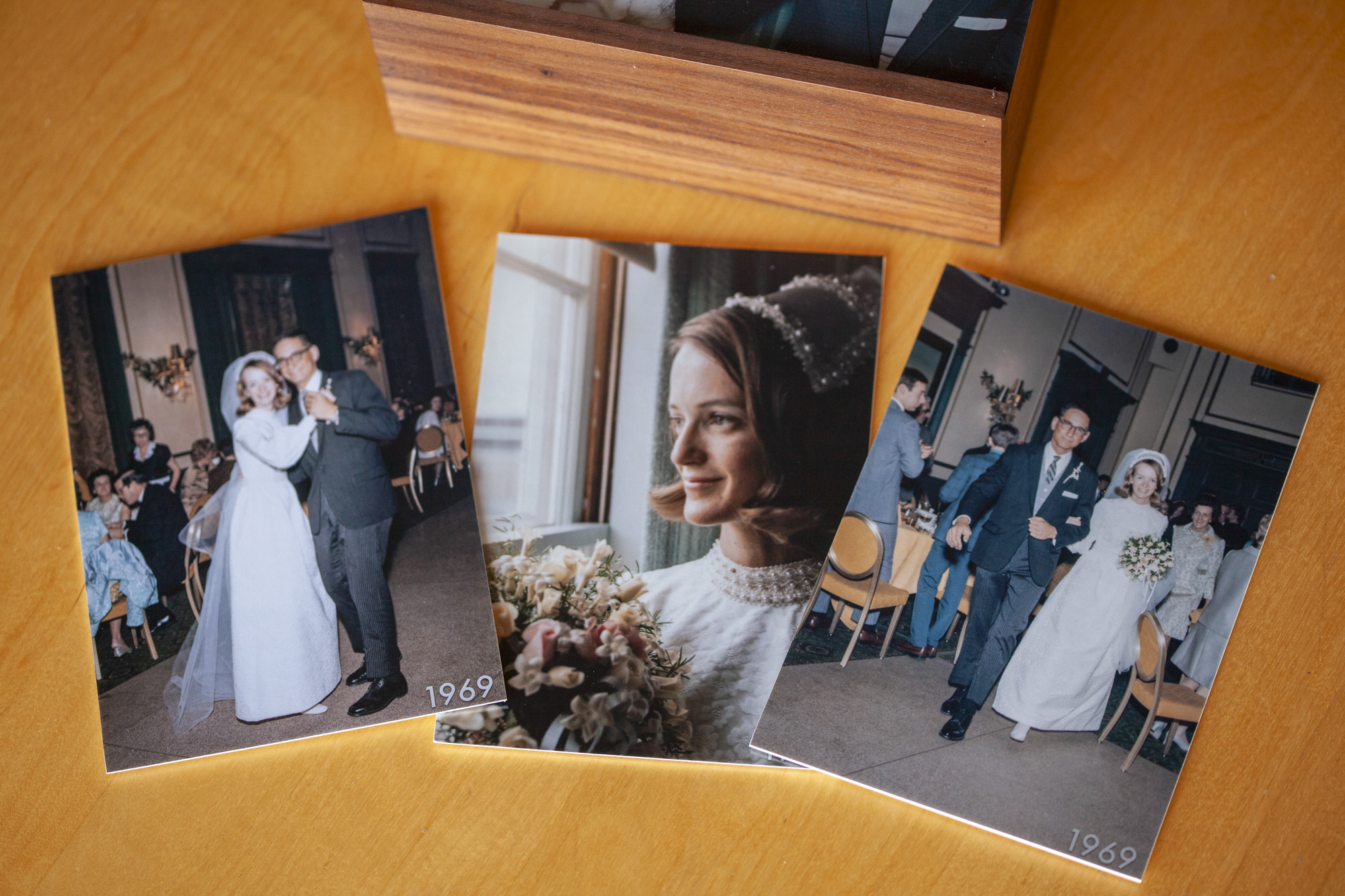 "Far exceed any expectations"
Elise's parents were coming up on their 50th wedding anniversary and the family wanted to give them a special and memorable gift to celebrate this major life milestone. We suggested a custom Memory Gift Box for the special occasion. We worked with Elise to organize almost 50,000 digital photos, create archival scans of some of their most important printed photos, and identify a few dozen of the best photos of their life together. Our team had the curated collection of photos printed, mounted, and assembled in a beautiful walnut gift box. Her reaction to this unique gift was priceless:
"So I just opened the box to take a peep, but of course I couldn't hold back and looked at all the photos….just gorgeous!! It's really a beautiful gift and will far exceed any of their expectations. Thank you for your help and guidance with this." – Elise C, Chicago
"Sense of accomplishment…and relief"
"My goal in retirement was to archive all my photos and videos and share them permanently with my 3 adult children. My legacy so to speak. Before I met Adam, I was convinced I could do this myself because I am extremely organized and somewhat tech savvy. I bought Adobe Photoshop, had the right computer, and took class after class at the community college on photography. The problem was that these classes focused on making cool changes to photos and not actually archiving them. I had photos on my phones, my mac, my laptop, in boxes, on vhs, super 8. I was overwhelmed.
Adam helped me approach this project in bite-sized goals for each visit. Doing this in phases also made the cost more affordable. As the to-do list shrank I had such a sense of accomplishment…and relief.  I knew this would actually happen.
Now all my bad photos and duplicates are gone and all my photos and videos are digitized and backed up at least 3 times over. My adult children now have their lives in photo and video all in one spot. My daughter is getting married next year and now I can find the photos she wants for the slideshow at the reception.
I'm now 15 months post retirement and my mission is accomplished.  Thank you Adam for making this project a reality. " – Pam S, Wheaton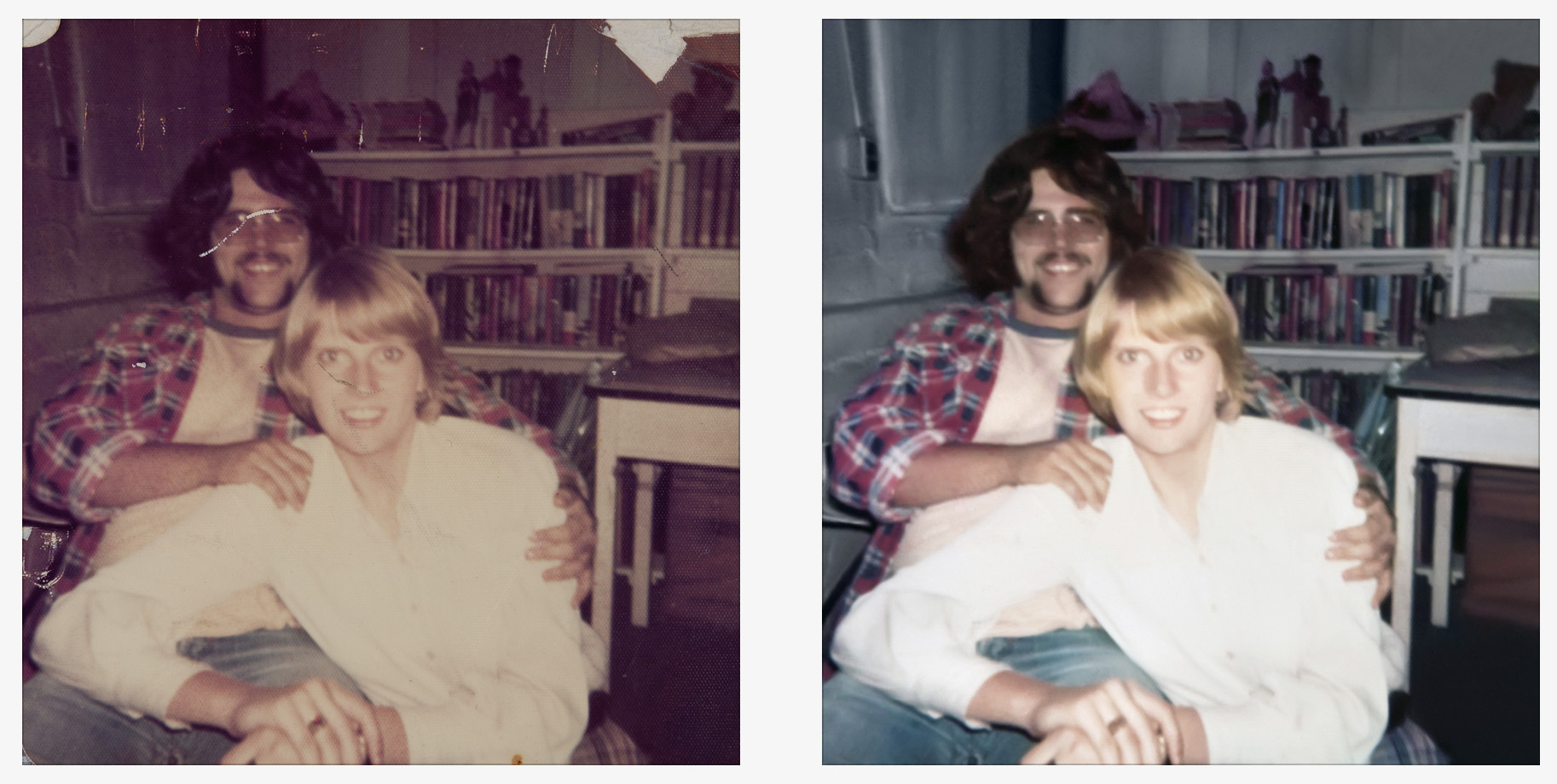 "Adam is an expert"
"Adam is an expert in taking a mess of duplicate images from various sources and organizing them all into a single place in a system that allows you to have all your images organized, backed-up, and easy to locate.  He is an excellent teacher and instructs you how to maintain an organizational system for future pictures. Now I can easily locate past pictures quickly and I have the peace of mind that they are safely stored for the future!  I am so grateful for his showing me how to manage Lightroom and use it to not only edit, but to organize my archives of memories.
Thank you again so much for all your help!  I am so very, very grateful to have someone to turn to when I was stuck and overwhelmed and confused with Lightroom!" – Carolyn W, Wheaton
"A great experience!"
"We had a great experience with Chaos to Memories! Their service was fast, friendly, and professional. We love the finished product, and knowing that our memories were in good hands was the icing on the cake. Highly recommend!" – Laura G, Elburn
"Wholeheartedly recommend!"
"Sharing your irreplaceable family memories with a stranger to be digitized is nerve racking. Trust in both the company and the process is critical to assure privacy and results. I did a lot of research into Chicagoland area companies that could help me scan over 3,500 old slides and found Chaos to Memories to be the best company for me. Adam and his team did a great job preserving my family memories and I would wholeheartedly recommend them for any digitization project." – Marcus M.
"My experience was amazing!"
"My experience with Chaos to Memories was amazing! I inherited about 70 years of home movies and have had them in a closet for the last 10 years! Last year my cousin's house was hit by a tornado and she lost most of her family photos. That was my wake up call! I am happy to report that I am now sharing home movies with my family that they have not seen in over 20 years…if ever. Adam made the process easy. He is professional and an expert with all sorts of photo and movie formats. My originals arrived along with USB drives with the movies on them. If you have a closet full of photos and movies do not hesitate to contact Chaos to Memories!" – Kathe S.
At Chaos to Memories we help families enjoy their memories again with archival photo scanning, video conversion, and digital photo organization. Contact us for more information or to get started on your Photo or Video Archive Project.