Best Photo Scanning Setup
At Chaos to Memories we scan tens of thousands of photos every year at high resolution and incredible quality, but would you believe we don't use any scanners? That's right, instead of using scanners which are old, slow, and give mediocre results, we exclusively use the camera scanning technique which is common at museums and archives around the world. As you can see in this photo, we use professional cameras, lenses, lights, film folders, and copy stands to digitize your memories.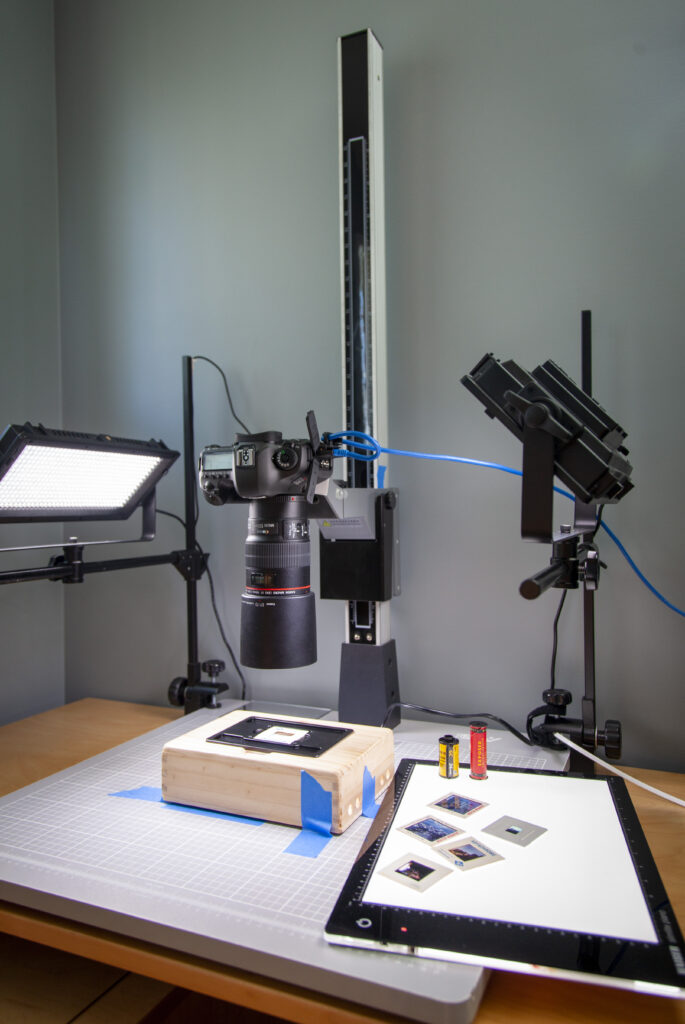 I've been scanning for 30 years and used every kind of scanner (flatbed, film, drum, high-speed, etc.) and the scans we get from our camera scanning setup rigs are the best scans I've ever done. We use the camera scanning technique for a few key reasons:
Resolution: We scan prints at 600 PPI and slides and negatives at 4,000 PPI, all with the same equipment.
Quality: Flatbed scanners haven't changed in decades, but digital cameras bring us the latest digital image technology and allow us to capture any photo format with incredible fidelity.
Speed: Camera scanning is much faster than using a flatbed, film, or drum scanner which means we can complete most client projects in days or weeks instead of the months or years it would take you to complete the project at home.
Our clients agree that the quality of our photo scans really sets us apart. Here's an unsolicited email we received from a recent client:
"WOW!! I am blown away by the quality of the scans I received today. Thank you! I am so excited to share them with my sister and my cousins."
We strongly believe that memories are important and when it comes to scanning your photos you should do it once and do it right the first time. Camera scanning requires a bigger investment in equipment and learning than other scanning methods, but the quality speaks for itself.
---
Two other ways you can learn about our photo scanning setup is by reading Declutter your Photo Life or taking Adam's course, The Practical Guide to Camera Scanning.
---
At Chaos to Memories we help families enjoy their memories again with archival photo scanning, video conversion, and digital photo organization. Contact us for more information or to get started on your Photo or Video Archive Project.